It's no secret these days that content marketing is a must for law firms when it comes to boosting online presence and attracting new clients. What better way to achieve brand awareness and traffic to your website than blogging? When done correctly, a blog can be one of the most powerful tools to increase organic search visibility, promote your legal expertise, and engage with your audience. Whether you are already consistently blogging or are ready to start from scratch, read our top six tips below to help you achieve a successful law firm blog.
1. Keep It Relevant
Your blog has a specific purpose - to inform your audience about what your law firm does and how you do it. Chances are a potential client interested in specific legal services found your blog through a Google search. Your law firm's blog is one of the best places to display thoughtful commentary and demonstrate expertise in your field. Make sure your content is useful to consumers, includes valuable information, and is 100% relevant to your law firm's practice areas.
2. Focus On Quality Content
While it's important to post consistently, you want to make sure the quality of your blog content takes precedence over quantity. Focus on material that people actually want to read and worry less about how long a post is or how many blogs you post that week. Your blogs need to be informative, to the point, and helpful.
3. Research Keywords
Even with no search engine optimization (SEO) experience, you can research keywords to use in your blog in order to rank higher in Google search results. While most SEO keyword research tools cost money, there are several resources out there like Buzzsumo or Ubersuggest that will help you identify keywords, trending topics, and the best terms to use throughout your blog.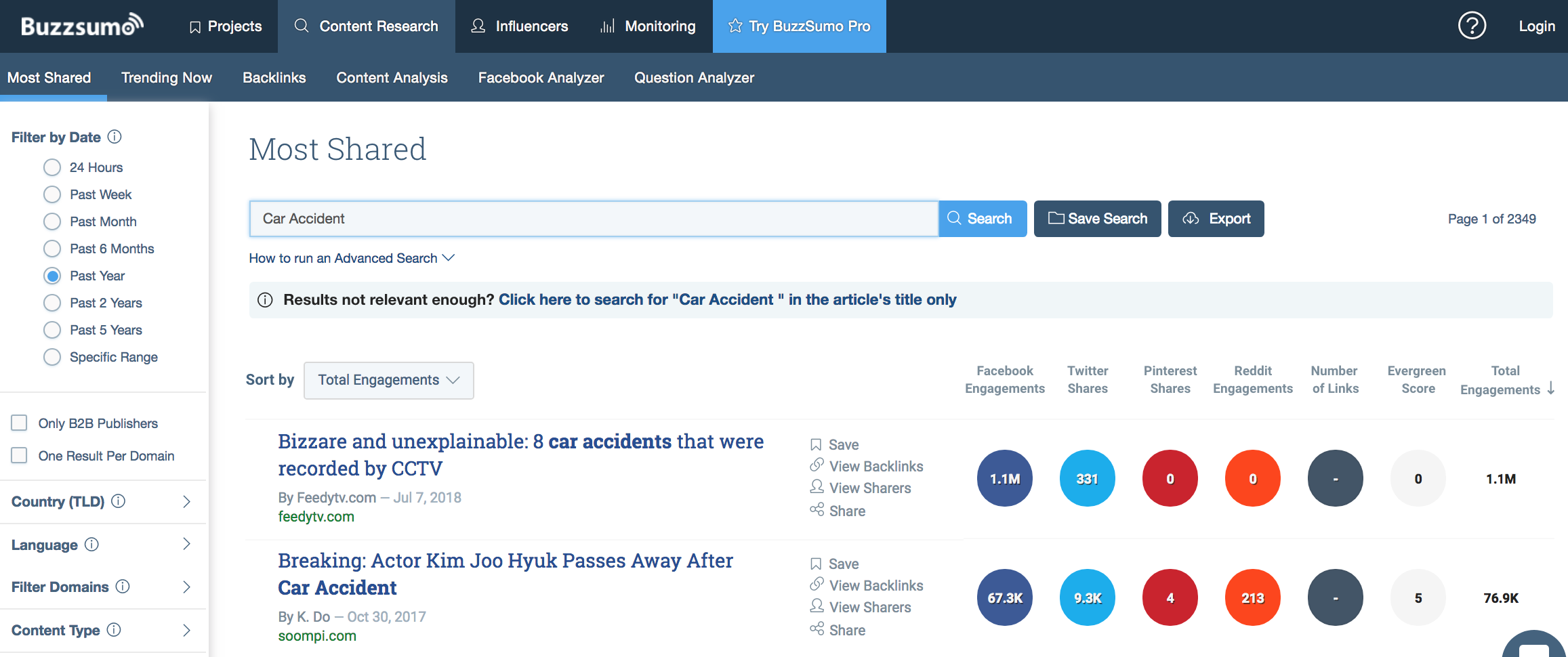 4. Offer Fresh Perspective
Another key to a successful blog is to write about what you know but in a new or interesting way. Make sure your blog doesn't get dull or repetitive. A great way to combat monotony is to have different attorneys write for the blog and cover areas they specialize in. Alternative perspectives, formats, and writing styles will keep things interesting and will attract different types of readers. While mixing it up spreads the workload across more people and allows for more variety in subject matter, be sure to keep a consistent voice for your brand.
5. Check out the Competition
Chances are most of your competitors already have a blog. There is no harm in researching your competition's blogs to see how you can do it better. Are they actually answering questions clients will want answers to? How often are they posting? Are they engaging with their audience? Take notice of how much attention their blogs are getting, and use their best posts as inspiration for your future content. The key here is to make sure your blogs are not only better but also 100% original.
6. Promote and Engage
Once you post a blog on your website, its important to get the word out. You can't expect your audience to automatically read every piece you write, which is why you must remind them and guide them to it. Share your law firm's blogs on your social media channels, in your email newsletters, and/or even in email signatures to expand the reach of your posts.
The final key factor to remember is to engage with your audiences. Once you've encouraged them to read your blog, be sure to respond to any comments or interactions with your content. It's important to acknowledge what your readers have to say, whether you agree or not. This will ensure loyal readers and support for future blogs.
Law Firm Blogging Experts
So there you have it, six key tips to help your law firm in its blogging venture and enhanced content marketing strategy. If you are overwhelmed with the idea of writing quality blogs on a weekly basis or simply don't have the time, we can help. Contact the blogging experts at Stacey E. Burke P.C. today.