Google Analytics is a powerful website and social media analytical tool for your law firm. Even if your law firm's website is currently connected to another analytics system, adding Google Analytics is a must. This post will be the first in a series covering the most basic metrics captured in Google Analytics.
Bounce Rate
Bounce rate is the percentage of visitors who leave your site after only viewing one page. The greater the number of web visitors viewing your site and leaving after only viewing one page, the higher your bounce rate. If visitors click on (or visit) more than one page, your bounce rate goes down. An overall bounce rate for a law firm website between 25-35% is good; lower than 25% is excellent. If your overall bounce rate is higher than 65%, you very likely have issues with your website that need to be addressed. A bounce rate of higher than 65% can indicate that your law firm's website content isn't compelling enough, your search engine optimization (SEO) is set up inappropriately or is nonexistent, and/or your paid search advertising (PPC) campaign is driving traffic to the wrong website landing pages.
While the bounce rate ranges listed above are fairly universal, there are exceptions to these rules, including blog posts. Individual blog posts will most likely have a higher bounce rate than your other static landing pages (such as practice area landing pages). This is normal, and occurs most likely because visitors are looking for a specific piece of information, and then leaving your website. Therefore, if your website is almost completely blog-driven, your overall bounce rate will be higher.
Behavior
The Behavior section of Google Analytics provides information on the behavior of your visitors while they are on your website.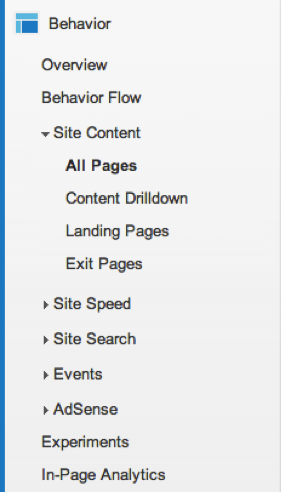 Website owners should review their Analytics "Site Content" sections regularly to monitor what content visitors are clicking on the most. If you see that visitors routinely access the same three pages on your law firm's website over and over, consider why.
"All Pages" allows you to sort your pages by any of the following criterion:

Sorting by Entrance tells you which pages drive the most traffic to your site. Check this statistic often to see what content drives inbound traffic to your website most effectively. Sorting by Bounce Rate shows which pages keep visitors on your site the longest (the posts with the lowest Bounce Rate).
Acquisition
If your law firm utilizes paid search advertising, or Pay Per Click (PPC) campaigns, confirm that your Google AdWords account is connected to your Google Analytics account. The interlinking of these metrics greatly enhances your analytics data.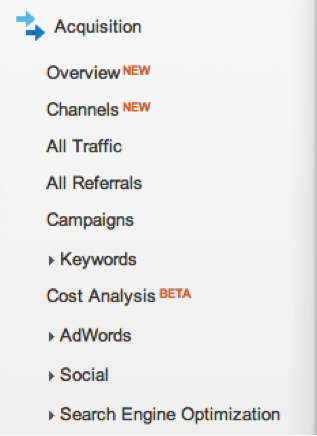 AdWords (or PPC) campaigns need to be targeted and optimized often to be effective. In order to optimize a campaign, the campaign specialist must monitor metrics daily; correspondingly, the law firm paying for the campaign should take a look at how things are going on a weekly basis. If your firm does not see an increase in its qualified intake from a trackable and measurable increase in paid search traffic within 90 days, edit your PPC campaign accordingly and/or pause it entirely.
The linking of AdWords to your Google Analytics account can also help pinpoint geo-location data and web search activity of your visitors. Google Analytics records the geographic location of website visitors. Reviewing this geo-location data will reveal, in real time, whether your location-targeted AdWords campaign is reaching your desired audience effectively. After noting where your visitors come from, Google Analytics can also tell you where on your site these visitors landed, where they went next, and on which page they exited your site. A savvy web marketer will look to user behavior to adjust both the paid search campaign and the website itself.
Referral information is also bolstered when AdWords is connected to your analytics account. Referrals in Google Analytics are other websites that "send" people to your law firm's website. Social media channels Facebook, Twitter, LinkedIn, and other and law firm directory listings such as Avvo or Lawyers.com generally drive a large percentage of inbound law firm website traffic. Linking your AdWords account allows Google Analytics to further track your own paid ads as referral sources, showing you where people see your ads and if they click through to your site.
Bounce Rate, Behavior, and Acquisition are only three of the seemingly countless web traffic metrics captured by Google that can help your law firm's website perform better. Check back to the blog to see more posts about Google Analytics, and how it can help your business.
Contact Me at Stacey E. Burke, P.C.
If you want to focus on your law practice instead of your website's analytics, please call me. I can help you implement Google Analytics on your website, set up analytical reporting, and teach you how to read your reports.