This article won the SmallLaw Pick of the Week award. The editors of SmallLaw, a free weekly email newsletter for solo practitioners and those who manage and work in small law firms, give this award to one article every week that they feel is a must-read for this audience.
In today's digital era, everyone's a critic. Yelp, Facebook, Google, Foursquare… the Internet is rife with locations for both happy and dissatisfied clients to leave their opinions about your business. Good reviews and ratings can help establish local search engine optimization credibility for smaller law firms, allowing them compete with larger firms. But a bad review? Bad reviews can be detrimental to a business's online credibility.
Everyone's Doing It
Before the ubiquitous Internet, personal recommendations were the hallmark of credibility. A referral from a friend meant more than any advertisement. Nowadays though it's just a fact: we all Google before we buy/visit/hire anyone or anything. A new restaurant in town? Let's see who said what about the food. Need a repairperson for your home? The first step is almost invariably to read reviews about the quality of services provided. And get this: a whopping 84% of people trust online reviews as much as personal recommendations.
A positive reputation is one of the most powerful marketing assets a law firm has to convince new customers to contact it. It provides digital 'proof' about the quality of the business and allows consumers to make decisions with greater confidence than ever before. In fact, 72% of consumers say a positive review makes them trust a local business more while 86% of people will hesitate to purchase from a business that has negative online reviews.
Think about it: if you search for a new accountant, would you select an accounting firm with several positive reviews…. or the firm that had zero reviews and/or multiple negative reviews? In an era where aggregated information is delivered instantaneously, reviews help consumers make decisions faster and require far less research on their part.
Where Should Reviews Go?
So where does this leave your law firm? Unfortunately, just being good at your job isn't enough anymore if the digital stratosphere doesn't know about it. Asking happy clients to leave reviews is absolutely paramount – you can't compete if you don't even show up. The good news is that the odds of obtaining digital reviews are heavily in your favor: seven out of 10 consumers will leave a review for a business if they're asked to. Which leads us to the question: where should you ask clients to leave a review?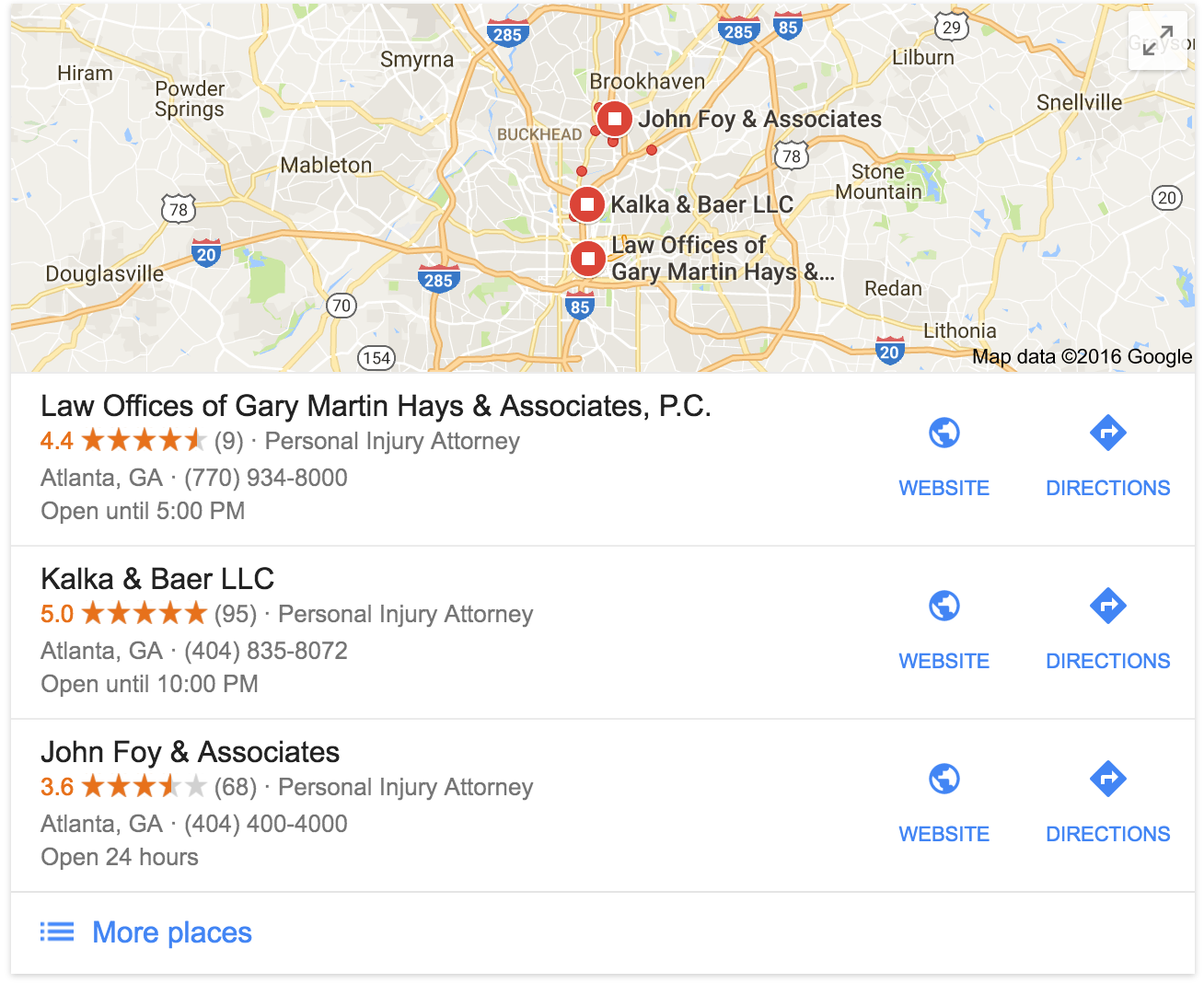 Reviews on Google or other external websites are digital marketing priority number one. Google's local search algorithm incorporates data from a number of third-party directories and review sites, such as Yelp, Facebook, and AVVO. The more reviews you have on these sites, and the more positive they are, the higher chance you'll have at ranking in Google's "local" 3-pack, as pictured. In the example, all three firms have multiple high-star ratings, giving them prominence in local search results.
The important thing to remember with online reviews: clients MUST login directly to the third-party websites with their own credentials for legitimacy. Try following a few of these steps to jump-start the review process:
Encourage your clients to leave reviews directly after receiving good news about a case verdict or settlement.
Train all staff members interacting with clients on the importance of review websites and how clients should go about leaving them.
Set up a dedicated computer or tablet in the office where clients can immediately post reviews in real time.
Send follow-up emails asking clients to rate the firm, including links for easy click-through.
One last thing to keep in mind: most clients will leave one review at most so make it count. Generally speaking, a potential client searching for a lawyer will read reviews and peruse ratings before clicking on your website. While testimonials featured on your website are great for reinforcing the firm's brand, they can only convert visitors that have already decided to visit the website – otherwise they will never be seen. From a website development standpoint, you should utilize good reviews by displaying those left on external websites directly on your website. WordPress has a great plug-in for this feature, or you can ask your website developer for help. It's a free way to get extra mileage out of reviews.
Moral of the Story: Your Law Firm Absolutely, Positively Needs More Online Reviews
Asking for reviews can seem tedious and time consuming, but they are one of the most important parts of a digital marketing strategy. Helping with everything from brand management to search engine optimization, reviews and ratings are the lifeblood of most businesses today. And like it or not, it's also a never-ending process, as 73% of consumers think reviews older than three months are no longer relevant. Make sure your law firm develops a strategy for obtaining reviews, and stay tuned next week for insight on how to manage negative reviews.