Several days ago Nancy Myrland tweeted about the SCOTUSBlog budget – an eyebrow-raising $500,000.00. While it is not immediately known how the SCOTUSBlog budget it allocated (I'm assuming most is spent on salaries), Preston Clark posted his blog's budget on Google+ and started a discussion in the comments on the actual budget range for law blogs.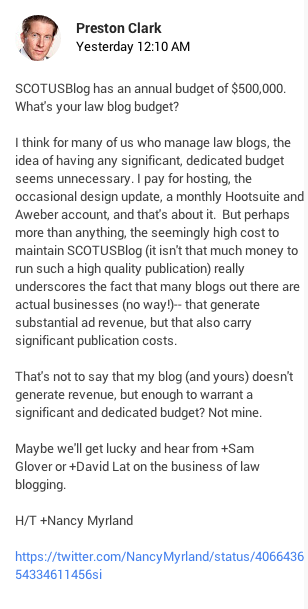 As you can see in Preston's commentary, the actual cost of running a blog is relatively small. Hosting is one of the only ongoing actual costs of a blog, and that will cost you $20.00 or less each month. However, hosting alone does not account for the total cost of running a law firm blog.
Blogging Manpower
While hosting costs are insignificant, you are "paying" your attorneys or other writers to write blog posts. Consider this math: if three attorneys, who normally bill at $300.00 an hour, write one blog post a piece for one year, and it takes them approximately an hour to write each post, your law firm is spending approximately $46,800.00 annually for blog content.
If your firm were spending $47,000.00 per year on any other service, the firm would certainly want to see reporting, metrics, and analytics to verify the need for that expense. Law firms must consider tracking the return on this $47,000.00 investment.
What is ROI for a law firm blog?
The mistake many firms make in tracking the effectiveness of a law blog is by equating dollars in the door with number of posts on the blog. This is a disappointing and ineffective metric. If law firms measure blogging success solely by increased new case intake, no firm would have a law blog. While over time you can potentially link revenue to your blog, do not start there. Track a variety of standard blog metrics first.
Increased Web Traffic
Review the behavior flows in your Google Analytics. Track the number of blog visitors that click on your website's other main pages (i.e. home page, attorney bios, contact us). If 30-50% of your blog visitors read your post, and then continue through your law firm website, your blog is effective. Less than 30% transition means blog content should be reevaluated.
Review which blog posts retain visitors on your website. Evaluate those posts and consider why that content is compelling to visitors. Compelling content increases the likelihood visitors will move to website pages beyond the blog. Increased activity on the main website improves page rank, and increased page rank places your law firm's website higher in organic search results.
Increased Social Media Engagement
You should share your blog posts on your social media channels. Review your social media metrics – likes, follows, reposts, retweets, shares, comments, etc. The better your blog content becomes, the more engagement you should see on social media. Sharing quality content will increase engagement at higher rates than sharing quantity content.
If your social media metrics do not improve at a rate of 10-20% per month, reevaluate your blog content. Is it thought provoking, informative, and/or discussion worthy? If not, change the direction and content of your posts. If your content seems appropriate, review social media protocol. Are you tweeting, posting, and sharing per industry standard? If not, change your social media behavior, and reevaluate your analytics after one month.
Increased Offline Activity
Well-written posts will lead to a blog author being considered a thought leader in the legal industry. Tracking something as esoteric as "thought leadership" is difficult, but it can be done. Three good indicators of increased offline activity are: increased speaking engagements, increased media interviews, and increased referrals.
Track the number of speaking engagements and media interviews your firm receives each quarter. This metric is a good indicator of thought leadership and is indicative of a worthwhile blogging effort. Track referral sources brought to your firm after reading a blog post.
Holistic Review of Metrics
Review blog analytics holistically. If speaking engagements soar while social engagement stays relatively minor, do not ditch the blog. Notice where you gain traction with your blog and follow that lead. No two firms will have the same public response to their blog.
Firms must consider the ROI of their blog in order to justify the expenditure, and the more data points collected regarding the value of the blog, the more law firms are willing to see that expenditure as an investment.
Contact Me at Stacey E. Burke, P.C.
Reviewing analytics is not for everybody. If your firm needs help reviewing analytics, creating a content marketing strategy for your blog, or help with blogging or social media protocol, contact us. At Stacey E. Burke, P.C. we work to help you make the most of your investments.