It's no secret video has made a monumental splash in the world of digital marketing over the past few years. According to HubSpot, 72 percent of people would rather watch a video to learn about a product or service than read text and 97 percent of marketers also found video helped increase user understanding of products or services. While video production and editing is not something most law firms are focused on internally, it's important to know the ins and outs of these tools in order to better understand the process and how it can play into your marketing efforts.
Adobe Premiere Pro
Adobe Premiere turns raw footage into seamless productions, with video editing tools, color adjustment, audio functionality, and more in one integrated and simplified workflow.
As a part of Adobe's Creative Cloud, Adobe Premiere easily updates itself with the newest features once they are released. It also happens to be the only non-linear editing platform that allows users to work on multiple projects simultaneously, making it a big time saver for editors.
With Adobe Premiere Pro's comprehensive camera support, editors can import footage and other media files from almost any type of device, eliminating formatting concerns. Users have the option to edit through desktop when at the office or through their mobile device if preferred or when on the go. Adobe Premiere offers the industry's broadest native media support. It can work with any camera in any video, image, or audio format from 360-degree virtual reality (VR), footage taken on your iPhone, or 8K-video.
Rather than making specific edits to each individual clip in the editing timeline as on some platforms, editors can apply effects and alterations to the footage in bulk. This way, the edits are all completed at once and when a clip is selected from that same footage in the timeline, the effects are already in place. Audio and video can also be automatically synchronized, creating one unified media clip with audio and video already in alignment.
The platform also allows for faster JKL trimming. JKL trimming refers to the JKL shortcuts on your keyboard used for scrubbing through clips and media elements on the timeline. In Adobe Premiere Pro, these JKL shortcuts are married with the trimming tool, allowing you to scrub and trim simultaneously. This allows users to refine a sequence more efficiently, with greater speed and precision.
Adobe Premiere Pro has different workflows available for color, graphics, audio, and 360/VR when needed. Editors have the option to add motion graphics, visual effects, and pro-quality audio at any time with its advanced editing system, making it the go-to editing platform for many YouTubers, videographers, and even filmmakers.
Adobe Premiere Pro User Interface
Final Cut Pro X
Apple's Final Cut Pro X provides seamless editing for video, audio, motion, graphics, and an easy to use delivery system. It offers 360-degree video editing capabilities, with virtual reality (VR) headset playback, and advanced color grading and high dynamic range (HDR) support when needed.
Final Cut Pro X allows editors to accelerate the post-production process with a magnetic editing timeline that makes moving and trimming clips without running into collisions or syncing issues much easier. Clips can be compounded in order to bundle separate video and audio clips into a single movable package that can then be synchronized with second source audio automatically. Content can be easily color-coded to identify different types of video and audio, all with the ability to customize the look of the timeline as they edit.
The platform allows editors to create custom 2D and 3D titles within the program with the ability to apply and modify filters as needed. They can utilize the built in Chroma key system for high-quality green and blue screen effects for an added pop when necessary. Users can expand on the built-in effects with thousands of third-party tools and templates. For even more control, users can create custom titles, transitions, generators, and effects.
Final Cut Pro allows users to edit multichannel audio by taking into account the built-in tools for removing background noise and optimizing levels. They can adjust multichannel audio files within the timeline or open the inspector for more information and options, and choose from dozens of bundled plug-ins for audio compression and equalization (EQ) capabilities.
Editors can quickly encode video using multicore central processing units (CPUs) and high-performance graphics processing units (GPUs). Presets allow for easy delivery to mobile devices, tablets, Apple TV, and sites like YouTube, Facebook, and Vimeo, as well as Blu-ray discs. The adjustable settings within Final Cut can export the finished product in a variety of professional audio and video formats.
Final Cut Pro X User Interface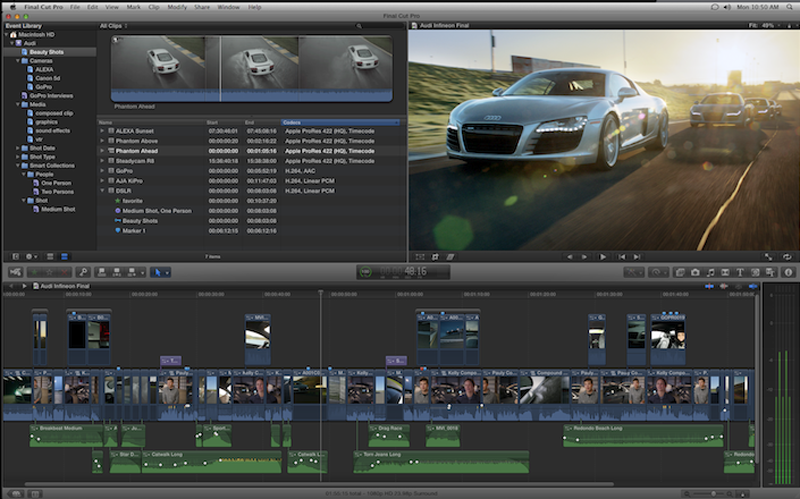 Wondershare Filmora
Wondershare Filmora is a more simplified video editing platform that allows editors to create beautiful videos for many different fields.
Wondershare's simplified platform utilizes various different filters and overlays in order to allow editors to transform their videos. Text and title options are also available to allow users to incorporate text by taking advantage of a large selection of titles, openers, and lower thirds.
Motion elements, such as drag and drop moving elements, and inputting graphics into videos can add an extra pop when needed. Users can combine multiple images and video clips seamlessly with easily implemented transitions, and choose the perfect royalty free song from Wondershare's music library. They can browse filters, animated elements, and other modern video effects in the effects store, which is conveniently updated each month.
With Wondershare, users have the option to import videos and photos directly from Facebook or other social platforms. Frame-by-frame preview functionality allows users to jump through audio and video tracks one frame at a time for more precise editing. Users can also utilize color tuning to precisely adjust the white balance and dynamic range of clips.
Wondershare Filmora User Interface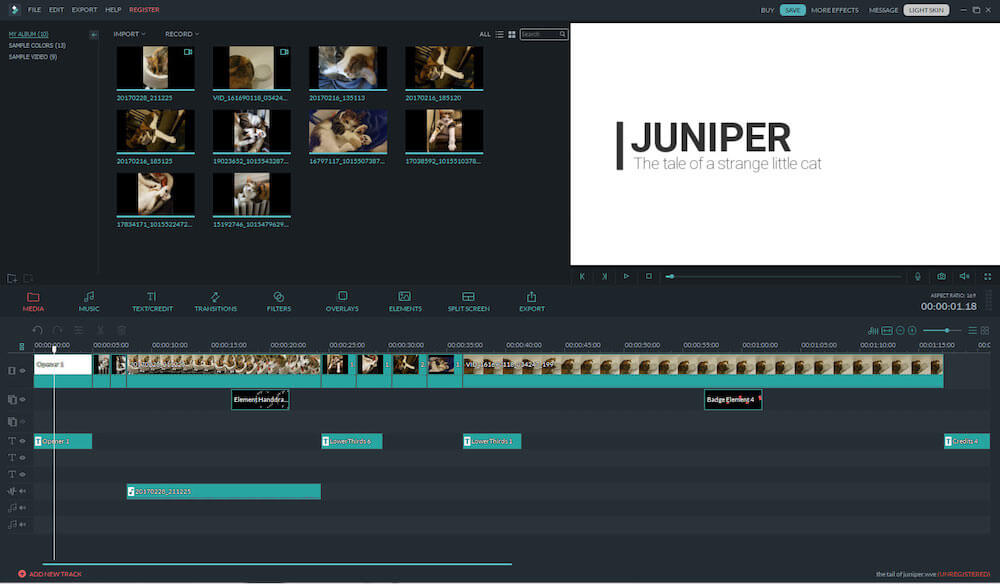 VIDEO MARKETING FOR LAW FIRMS
Each of these editing platforms can provide the tools necessary for editors to put together beautiful video content that tells a story. If your law firm is interested in learning more about video marketing, contact the professionals at Stacey E Burke, P.C. today.