As search engine algorithms are continually updated, optimizing your law firm website can become incredibly challenging. While there are several best practices that can help you build a solid foundation for your website, one of the most under-utilized, but highly effective SEO tools for law firms is Yelp.
What Is Yelp?
Yelp is an online directory where users can leave reviews directly on a directory listing. It grew to popularity originally as a directory for restaurants, but has since expanded to include nearly every type of business. Users can upload pictures and videos of their experiences at businesses, contact businesses directly, or ask questions about the businesses to other users in the Yelp community.
Why Does Yelp Matter?
When search engines analyze a website, they seek to determine how legitimate it is. While users can do this intuitively, search engines must rely on other factors. Search engines like Google, Bing, and Yahoo determine the legitimacy of a website not only by crawling the actual website itself, but also by looking across the Internet for relevant mentions and backlinks.
Search engines will look for mentions of a business off-site, in other places like online yellow pages, social media platforms, and online directories. A law firm practicing good SEO should claim and build out its online directory listings on websites like Avvo and Justia, but it is also important to have a Yelp listing.
While law firm directories provide good backlinks, a Yelp listing is beneficial in another way for SEO. Yelp is incredibly reliable in the eyes of search engines; and, because users can leave reviews and ask questions regarding each listing, information is often more up-to-date than in other directories.
Search engines will cross reference external mentions of a business's relevant information, including physical address and phone number, with the corresponding information contained on the business's website. If the website and Yelp listing contain the same information, then the website is proven to be reliable. This measure of reliability is incredibly important for showing up in local search results, which are tied to a business's physical location.
Claim Your Yelp Listing Today
Creating and/or claiming a Yelp listing is incredibly easy. Once you find your law firm listing or create one on the Yelp website, Yelp will send an automated phone call to your business and provide a code for you to enter online. Sometimes Yelp requires users to perform this verification several times, but the stringent verification methods give Yelp legitimacy. Because Yelp is so easy to set up, law firms should seize the SEO opportunity; however, there are a few best practices to keep in mind.
Your physical address has to match what is listed on your website exactly. The key word here is "exactly." If on your website, you abbreviate "street" in your address as "St," you need to follow the same format in your Yelp Listing. This may seem trivial, but the importance of consistency across your online presence is imperative for search engine success. You will get the most bang for your buck by doing so.
Use good pictures. Yelp allows page managers to add pictures to their listings. Just like any other social media platform or online directory listing, use high quality images and logos. Yelp also allows captions on each photo, so use this space to introduce the people in the picture or explain what is going on in the picture.
Introduce yourself. Yelp actually provides a section for businesses to include information about their services and about the business owner. Many Yelp listings do not take advantage of this section, which is a shame. Potential clients like to know who they are dealing with, and providing information in this section helps personalize your law firm.
Upgrade your listing. Paying for a premium listing is not necessary in all directories, but a premium Yelp listing does come with great perks. A premium Yelp listing allows law firms to add feature photos that appear on the top of the listing. Because this is exactly where a user's eyes will fall when the page loads, it's incredibly important to make a good first impression. In addition, a premium listing will add prominent call-to-action buttons encouraging users to reach out to your firm. Finally, premium listings do not contain or show ads, meaning your competitors won't be displayed when users are viewing your Yelp listing.
A properly optimized Yelp page looks like this:
Further down on the Yelp listing, all infromation about the firm has been filled out like so: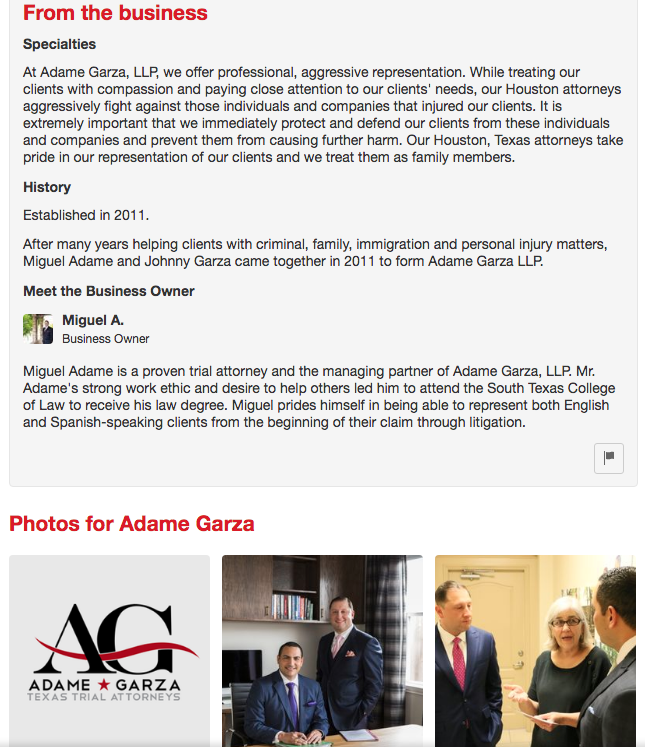 A good SEO strategy doesn't put all of your eggs in one basket. Directory listings like Yelp are only one piece of a much larger pie. For a comprehensive SEO strategy, contact the digital marketing experts at Stacey E. Burke, P.C. today.