Over 40% of the word's population uses the Internet, equating to 3.26 billion users. Four million Google searches are conducted worldwide each minute of everyday. And in a recent study, one-fifth of all Americans reported being on the Internet "almost constantly."
There is no question about it: we now consume more information, purchase more products, and research more companies online than every before. But what secures information provided online, and should you implement security measures for your website?
How the Internet Works: The Basics
Take a look at any URL: before the 'www' is the 'HTTP.' HTTP stands for Hyper Text Transfer Protocol. This is the protocol – or special set of rules dictating how two points communicate with each other – web servers and browsers use to send data to each other. Think of it this way: your website is in a folder on a server somewhere. In order for my browser (e.g. Firefox, Chrome, Internet Explorer) to read that file, it needs instructions. When a URL is typed into a browser, you are actually sending an HTTP command to the web server hosting a website. In return, that command retrieves the website you are trying to access and displays it on your computer.
This protocol happens in reverse when a user fills out a form or inputs any sort of data into a browser: the information is sent back to the original server hosting the website. So is this data being securely transmitted over the Internet? Not if you aren't using Secure Sockets Layer, or SSL.
What Exactly is SSL?
Now that we have data flying through the ether, how do we make sure the information transmitted is secure? This is where Secure Sockets Layer – or SSL – comes into play. SSL encrypts the data sent using the protocol mentioned above. It makes it impossible for a third party to read and process the information.
SSL, frequently referred to as SSL certificates, also ensures your browser sends data to the correct server. This provides another layer of consumer protection and lets visitors to your website know any information they input is protected.
Checking Your Website's Security Level
Thankfully it's remarkably easy to check if a website has SSL. Just look at the address bar. While different browsers use slightly different distinguishing features to indicate if a website is secure, they universally display a padlock symbol. All use green elements to signal it is safe to proceed, and the designation 'HTTPS' – with the added 's' for 'secure' – is incorporated into the URL.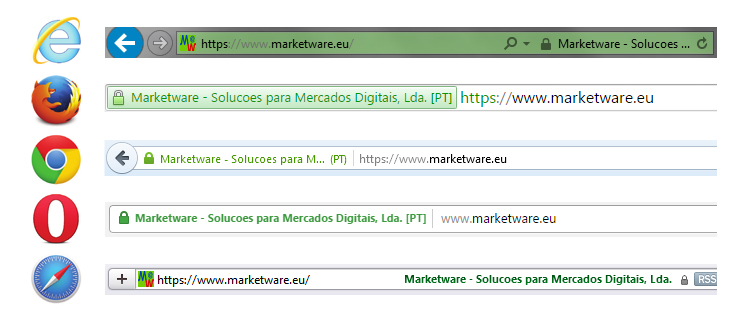 But I'm Not Selling Anything… Do I Really NEED SSL?
Short answer: no site is too small to get hacked. The web is filled with malware, viruses, and creepy crawly bots seeking poorly protected password pages. The minute they crack the code, your website becomes vulnerable to all sorts of havoc – including losing your entire website overnight.
Most law firms collect information from potential or existing clients online. The contact forms on your website collect names, phone numbers, and email addresses. Chances are, your visitors don't want that information shared or leaked because of an unsecure connection. Without an SSL certificate, some types of form submissions can be intercepted.
Encrypting website connections can seem complicated and extraneous, but it's an important step in protecting information provided in good faith by visitors to your website. Contact us today to build a secure website.