Last August, I wrote "LinkedIn for Lawyers in 2013." At that time, LinkedIn had more than 187 million members. Now, just one year later, LinkedIn has over 300 million members, 100 million of whom live in the United States.
In 2013, my top five tips to lawyers for optimizing LinkedIn included: (1) Build out your LinkedIn profile, (2) Upload a professional picture, (3) Personalize your LinkedIn headline, (4) Customize your LinkedIn URL, and (5) Export your connections for upload and link all of your email accounts. Those recommendations still hold true today, but the professional social network has undergone several changes in 2014.
The Three Biggest LinkedIn Changes Over the Past Year
#1: The LinkedIn Publishing Platform
Publishing content, whether online or off, is one of the best ways for a lawyer to grow their personal brand. While many (including me) thought Google Authorship was the pinnacle of individual digital publishing, Google has since done away with much of the perceived value of its authorship functionality. Now that Google Authorship is all but gone, you can build your personal brand by using LinkedIn publisher.
One of the most important recent search developments is the rise of the individual publisher. In our age of content marketing, the personal reputation of a digital content author is enormously important. Over the past few years, we've seen the ascendancy of authorship on a content-driven web. Only initial available to LinkedIn's "influencers," publishing rights have been continually rolled out all year. How will you know once you have them? Look for a gray pencil icon on your home page like this:

LinkedIn Publishing Platform is an amazing way to showcase your legal writing to your legal network and beyond. A 2012 ABA survey showed 95% of ABA members have profiles on LinkedIn and that 70% of corporate counsel regularly use LinkedIn as a tool to find and vet outside counsel. Also, over 40% of LinkedIn users check the network daily. LinkedIn publishing gives you the opportunity to reach a huge social professional audience because so many lawyers and other relevant professionals use it regularly. This does not hold true for your blog, which unless you have a proper inbound marketing strategy exists in a black hole.
Some industry insider tips on optimizing your use of publishing legal content on LinkedIn include: (1) Keep your titles between 5-10 words, (2) Use images throughout your posts, (3) Do not Add Video or Multimedia to your post, (4) How-to and List posts perform well, (5) Go long, as LinkedIn users like to read longer articles, (6) Get featured on a LinkedIn channel, and (7) Plan publishing times.
#2: LinkedIn Company Page Updates
LinkedIn company pages consistently rank among the top search engine results when a potential new client searches for your law firm's name. Just as an FYI, in order to create or edit your law firm's company page, you must (1) be a current employee of the law firm, (2) your position must be included within the Experience section of your individual profile, and (3) you must properly associate (and verify) your law firm email address for your LinkedIn account.
The publishing fun doesn't stop with your individual profile, lawyers can publish from their LinkedIn Company Pages too. Company Page Updates can be served up organically to hit your law firm's list of followers, or you can target updates to reach a specific audience. LinkedIn allows you to sponsor Company Page Updates within LinkedIn's Campaign Manager (advertising platform). After you share an update, if you are a page Admin, you will be able to see insights such as these: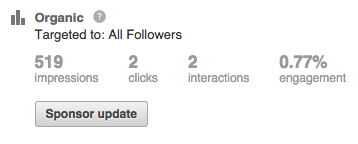 In April of this year, LinkedIn removed the Products and Services tab from all Company Pages, leaving users to highlight that data within the then newly-launched showcase pages. The Products and Services visually showed what your law firm offers to clients within a Company Page tab, including the use of photos, contact information, hyperlinks to your law firm website, specific practice groups. Another awesome feature was that your law firm could receive client recommendations that would remain visible on your Company Page. The concept was loved by many, but was duplicative in large part to the newer and more exciting showcase pages, and according to LinkedIn, rarely used by Company Page Admins.
Showcase Pages exist in the right sidebar of a Company Page, allowing users to see options and click through to specific pages. Each company page can have up to 10 showcase pages, and each Showcase Page can have its own separate set of followers; so really, the showcase pages are the same as having 10 additional LinkedIn Company Pages for your law firm, reaching out to a specific audience that might be interested in only a portion of what you have to offer. Publishing + Showcase = the ability to let followers see more targeted content, should they choose to do so, by following only a subset of the general page.
Law firms can and should segment and target specific areas of practice or services offered by creating showcase pages. This can be accomplished by clicking on the drop down arrow here:
Nancy Mryland lists out steps to create a law firm Showcase Page and provides some excellent tips for law firms to use in creating them.
#3: LinkedIn Premium Profile Redesign
In June, LinkedIn took a lesson from its social predecessors, Facebook and Twitter, and made its premium profiles look and function more like theirs. The more image-heavy design was rolled out to American desktop users first, and then gradually to other users and in the mobile application. LinkedIn chose to launch this new layout to attract more premium users (and thus make more money) and to make its paying users stand out. LinkedIn, as with all social media networks, is always looking for new ways to upsell its users.
If a lawyer pays to become a premium user, many additional features and options open up. For instance, the site will offer you recommended keywords to use to optimize your presence. This light SEO offering for those looking to boost their name in search results can help lawyers make positive changes to their LinkedIn identities. Another feature gives users a full 90-day list of who has viewed their profiles, and more insights into how they rank by views within their industry.
While for now the new Profile look is only available to premium users, all members will eventually get a version of this new profile design that will let them use bigger pictures in the backgrounds of their profiles.
Social Media Marketing for Law Firms
LinkedIn is not the only social media channel that is constantly evolving. Each network makes updates and modifications extremely often. We keep our fingers firmly planted on the pulse of social media news so that we can provide the most cost-effective, progressive, and helpful solutions to our law firm clients. If you find social media to be daunting to keep up with, or would like to discuss your law firm's best approach to a social marketing strategy, please contact us.